MP3 CD Burner

for Windows 9x/ME/NT/2000/XP Latest version: 4.0.
Buy Now For Only US$24.95!
MP3 CD Burner is intuitive music burning software! Not only will it burn your music in the order you want it, but it will let you edit each song to get rid of silence, extra long applauses or fade in and out incomplete songs! Boost or EQ each song individually so that you don't have to constantly adjust the volume dial on your stereo! Burn all the major types of audio files, including MP3, OGG, WMA and WAV. Rip your CDs to make your own MP3, OGG, WMA or WAVs! Squeeze 200 songs on a CD or 1000 songs on a DVD! This software was designed to be easy to use to get the job done!
"I spent the whole week looking for a software that does exactly what Acoustica MP3 CD Burner does. It was pure joy when I found it. Without any question, this is the single most fun software I've ever owned. Kudos to you!" - Barrington Scott
** Includes Photos Forever for free! Photos Forever makes it easy to backup your photos to CD or DVD! **
SEARCH... RIP... CLICK... BURN!!! MP3 CD Burner, the intuitive music CD tool, lets you get the job done quickly and easily! With this software you can effortlessly rip your personal CDs, retag your songs and burn music CDs with a click. No rocket science necessary!

This is the finest MP3 CD burner software available on the market today and it was created with the new user in mind, yet is loaded with great features for the power user.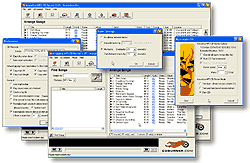 -- Import custom art or your own photographs
-- Rip your CDs! (Automatically tags them via FREEDB)
-- Burn custom music CDs from MP3s, WAVs or existing play lists (M3U, PLS) (WMA + OGG coming soon!)
-- Organize all the music on your computer via drag and drop.
-- EASY TO USE interface!
-- Auto-detection of incomplete songs
-- Specify exact amount of silence between tracks
-- Mix (segue) between adjacent tracks if desired
-- Automatically trims silence from the beginning or end of songs
-- Supports CD-TEXT if supported by the CD-recorder hardware.
-- Supports "Burn-Proof" CDRW drives
-- Much more!

Buy Now For Only US$24.95!
Download Now!